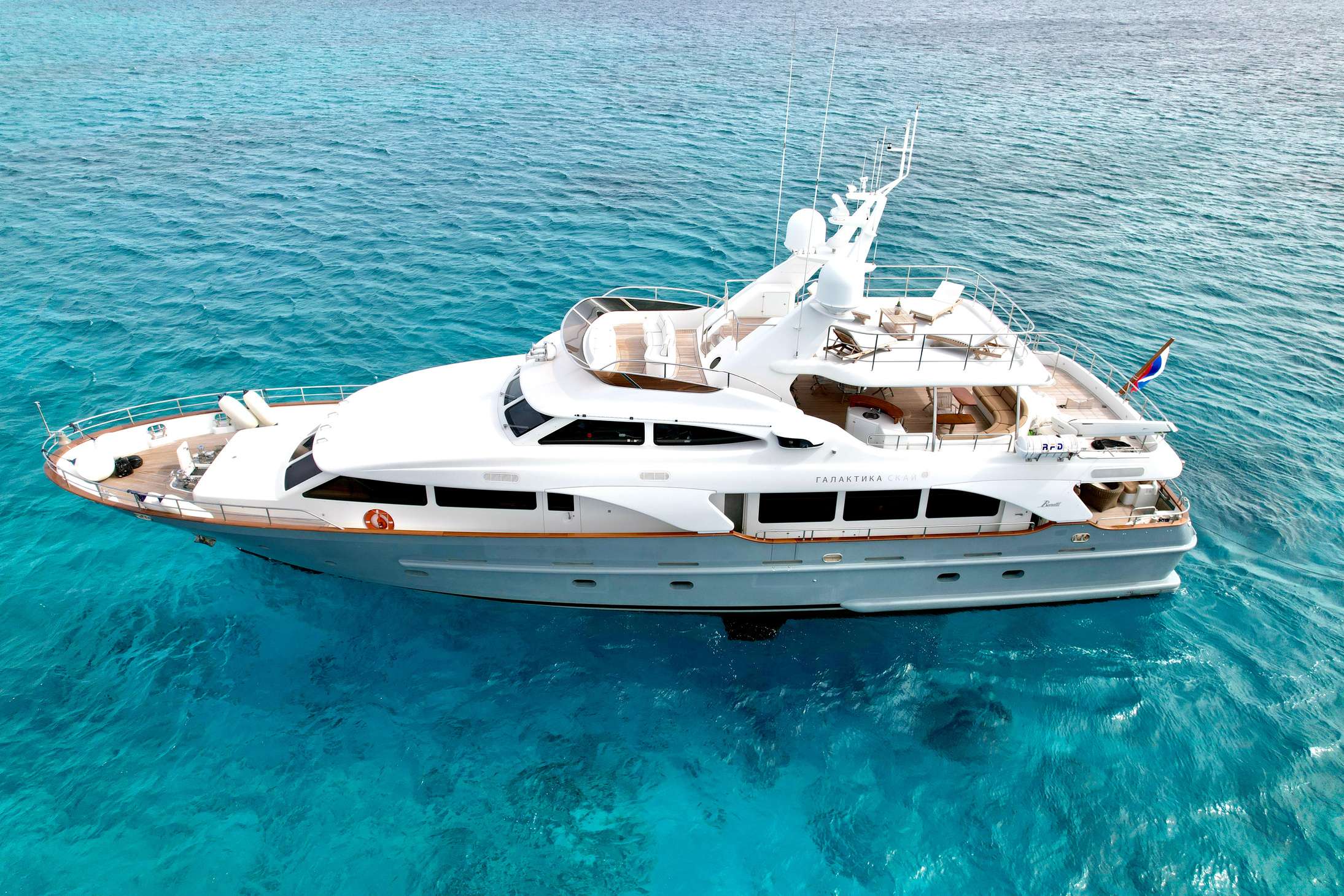 CUSTOMERS REVIEWS
Client reference, March 2022
We were a friendly group of eight (four couples) on Galaktika Skay in March '22. It really was an unforgettable trip! I think it is one of my best and most memorable experiences at sea. Galaktika Skay is is a beautifully cosy four-deck yacht built with classic Italian style and the crew of five had no trouble dealing with any of our requests, we were embraced with comfort and care during an unforgettable week while we were in the Maldives. They always greeted us with a smile, good-natured and willing to help us with anything we needed.

Chef Anatoly, who trained in a Michelin-starred Italian restaurant, really surprised us with his cuisine. We were swept away with absolutely everything he cooked.
We went out and explored wild white islands with azure water, swimming and sunbathing. The crew promptly set up everything for our carefree island vacation and catered to us. In the evenings we enjoyed sunsets on the islands and the crew cooked us a barbecue. They also made amazing sand figures of mantas and whale sharks for us and decorated it all with candles, lit a fire, put on beautiful music to which we enjoyed dancing, drinking wine and enjoying the fantastic starry sky! A night we will never forget.
We were fishing from a depth of 200 meters with special electric rods, which were fully controlled by electricity and a computer! Chef Anatoly then made fresh sashimi and many other delicious dishes with the fresh fish we caught.

What's also important to mention is that there are a lot of separate areas on the boat, so we didn't get in each other's way and we always had privacy.
One more thing! The stabilisers surprised me a lot! When we went out into the ocean, there were quite big waves as we were crossing between atolls, but we had very little rolling, the captain told me this was because they have the best stabilisers installed.
Galaktika Skay truly amazed me! Falling asleep on the flybridge under a million stars is something I will never forget.
Katie Bingle, Operations Manager - MYOCEAN , 8th January 2023
This letter is intended to serve as a letter of recommendation for West Nautical whom we chartered Galaktika Skay from in the Maldives for a client on 8th January.
The whole process was smooth from initial request for information all the way through to the end of the charter. The clients had only good things to say about the yacht as well
as how friendly and helpful the crew were on board. They had a great time cruising from one island to another enjoying all that the Maldives had to offer at sea.
West Nautical were more than adaptable to changes in timings from the clients and able to cater to the clients requests for what food and beverages they wanted on board at
such short notice.
Tina Collins, Charter & Sales Broker - Kitson Yachts, October 2022
I would like to thank you for your quick response and professional approach for the very last-minute charter request.
The client is very picky but had nothing but great things to share with me for the meals served onboard and the excellent stewardess. The stewardess is also a qualified masseuse, and the guests enjoyed a fabulous massage every day.
Galaktika Skay is a proper luxury yacht based in Paradise, and I will absolutely present her to future charter clients.
Charlie Hayward, Charter Broker - TJB, 15th February 2023
'Yacht was great as was the food and crew, great diving, meeting all expectations'.
CHECK AVAILABILITY AND BOOK NOW